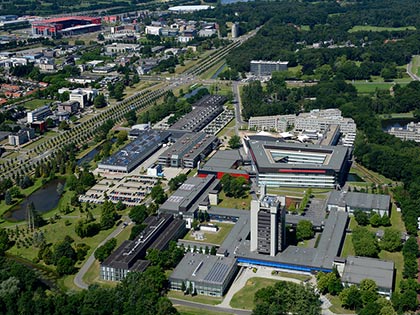 Everything you need to thrive during your studies
Twente Pathway College is located on The University of Twente campus. You'll study on campus from day one of your pathway and have access to all the benefits available to University of Twente students, including over 100 societies, the on-site restaurants and a Union Card which grants you access to all facilities from the library, copy services, and sport and cultural facilities.
The University of Twente has everything you need to thrive during your studies. The campus is home to a supermarket and hairdresser to a bicycle repair shop and gym. There's also 11 different places to eat and drink on campus, so you'll never run out of options.
On campus, you can find a dentist, physiotherapist, and psychologist, among other healthcare professionals. If you want to make use of healthcare in the Netherlands, you need to have health insurance and arrange for a general practitioner (GP).
University of Twente | COME CATCH THAT CAMPUS FEELING!
Teaching and studying
Twente University offers state of the art learning facilities including a Virtual Reality Lab, Supersonic Wind Tunnel, an Open Air Theatre, as well as lecture theatres, a 24/7 library, computer labs, and common spaces.
Sport and fitness
The campus has many sports fields for a range of different sports, including football, field hockey and tennis. There's also indoor and outdoor swimming pools, a fitness centre, and a climbing wall.
Arts and culture
De Vrijhof campus is the cultural heart of the University of Twente. Besides the various theatre and meeting rooms, you will also find the University Library, offices and the Theater café.